busy dizzy lazy
Staff member
[size=+2]
Porygon2 vs RedneckPhoenix
[/size]
Format:
2v2 Single
Style:
Switch
DQ:
One Week
Damage Cap:
40%
Banned/Restricted Moves:
Arena Description:
As seen in the picture below, the fairy garden is a circular clearing in a large coniferous forest. It is night time. The pink flowers glow in the twilight and fireflies flit around the stadium. In the very centre of the garden is a Poké Ball shape.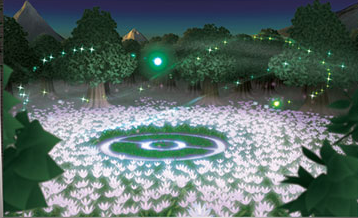 Additional Rules:
Basic or Baby Pokémon that can still evolve please!
Porygon2's active squad

Pepper
the male Growlithe <Intimidate> @ Fire Stone

Belle
the female Feebas <Swift Swim> @ Prism Scale
Phife Dawg
the male Rockruff <Keen Eye>
RedneckPhoenix's active squad

Katy Perry
the female Fennekin <Blaze>

I CAN SEE FOREVER
the male Espurr <Infiltrator>

BIDOOF
the male Bidoof <Unaware>

ProtonJon
the male Psyduck <Damp>

Meme-ikyu
the male Mimikyu <Disguise> @ Bright Powder
Doge
the male Rockruff <Vital Spirit>

Grape Mongoose
the female Yungoos <Strong Jaw>

Dwayne "The Rock" Johnson
the male Geodude <Sturdy>

Ashley
the female Roggenrola <Sturdy>
Captain Jack Spearow
the male Spearow <Keen Eye>
1. Porygon2 sends out
2. ReneckPhoenix sends out and attacks
3. Porygon2 attacks