that bitch what arranges the blocks
the year is 2070
faced with the crushing brutality of corpo oppression
the people and robots of berlin have taken their city back
for now.
the agents of saeder-krupp macrotech have besieged these cyberpunks and infiltrated their commune.
the people have no defense but themselves.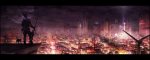 ​
RULES:
*Players who have been modkilled in the past year for repeated violation of rules are forbidden from signing up, no exceptions.
*If you will not be available at night, you may send me your activity in advance.

SETUP RULES:
*Everything I say about this game is true.
*All rules below apply unless your role card explicitly states an exception to them.
*Roles may not target themselves.
*Do not post game-relevant content during the night phase.
*Do not quote or screenshot any game-related communications you receive from me, in full or in part, to anyone, in any context.
*Roles are secret, but don't expect them to be too wild.
*Phases will be 48 hours each, but may change depending on my scheduling needs/the needs of players.
*I haven't decided if flavor will be relevant or not yet. Watch this space.
*This game is intended for 7-10 players. Signups will close 24 hours after the 7th player has joined, and Night 0 will begin 24 hours after signups close. I will ping players when signups have closed and when Night 0 begins.
-
1: rari_teh
2: RedneckPhoenix
3: Zero Moment
4: JackPK
5: qenya
6: M&F
7: Herbe
[8]
[9]
[10]
Thank you to rari for letting me steal some rules language from Knives Alley. Image credit Catalyst games; it's concept art for Shadowrun 5e.
Last edited: